SOFT-SIDED WATERBEDS.....
We can supply The DELTA SLEEP Soft-sided waterbeds with or without Drawers , They are upholstered in a Cream Quilted Fabric with a removeable washable Wooltop or a luxurious quilted pillowtop.
The construction is detailed below
CONSTRUCTION


1. Zip-off 100% pure wool cover for easy cleaning.
2. Richly quilted sides.
3. Woven fabric sleeves bonded to foam wedge.
4.High density foam wedge (this comfort edge also makes getting in or out of bed easier.)

5. Fabric/Vinyl reinforced base sheet.
6. Reinforced sheet sewn to fabric sleeves.
7. Heavy duty special formulated PVC Flotation mattress.
Every Delta Sleep soft sided flotation sleep system is engineered for strength. This construction comprises a fabric and vinyl reinforced sheet which has woven fabric sleeves sewn into its outer perimeter. These fabric sleeves are then bonded around the high density foam wedge to provide the strongest foam cavity available and eliminate any side to side flex. The result is the ultimate in strength, durability and comfort.
Allow yourself the added luxury of choosing your own comfort level from a choice of THREE wave motion control systems (3 ,5 and 6 layer mattresses available)


Sizes:

King........ 180cm x 200cm
Queen.....150cm x 200cm
Single......100cm x 200cm​

Replacement Zipped wooltop (complete): Queen-size

OUR Prices:

$ 4095.00 (3,5 or 6 layer mattress)
$ 3895.00 (3,5 or 6 layer mattress)
$ 3195.00 (5 layer only)

$ 895.00 King-size $995.00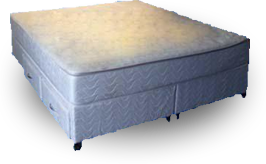 The Delta Sleep King-size Soft-sided Waterbed



Drawer Bases are No longer available for King and Queen soft-sided waterbeds
Delivery : NORTH ISLAND ONLY Charged depending on Delivery address.